Gui Pi Pian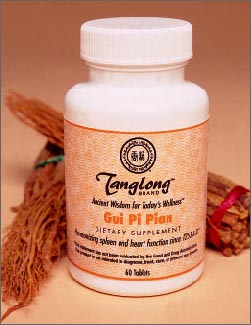 Harmonizing spleen and heart function since 1253 A. D.
TCM Therapeutic Actions:    Strengthens Spleen; tonifies Heart; nourishes Blood; calms the Heart's spirit (Shen).
TCM Indications:   Insomnia, interrupted sleep, drowsiness, heart palpitations; tired, achy or painful limbs, general fatigue, anemia, menstrual disharmony; irregular perspiration, dizziness, headache, tinnitus, poor vision, appetite disorders, nausea and bowel problems, memory loss, and overthinking.
Modern Indication: Bodily fatigue, heart palpitations, amnesia, poor appetite, insomnia, anemia, uterine bleeding, blood in the stool.
Comments: This herbal formula may be used for any condition due to blood deficiency, like side effects of chemotherapy and radiation; heavy blood loss. May also be used for conditions of bruising, as well as depression.