Huo Xiang Zhen Qi Pian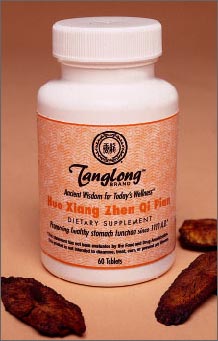 Promoting healthy stomach function since 1110 A. D.
TCM Therapeutic Actions:    Relieves exterior cold with interior dampness.
TCM Indications:   Symptoms of chills, fever, headache, a sensation of fullness or oppressed feeling in the chest and abdomen, vomiting, diarrhea, abdominal pain, and headache.
Modern Indications:    Common cold of gastrointestinal type, flu, acute gastroenteritis, gastroduodenal ulcer, chronic colitis, food poisoning, and epidemic parotitis. This formula can regulate the gastrointestinal function, stop vomiting and diarrhea, reinforce the stomach, induce diaphoresis, allay fever, relieve pain, resist bacteria and virus, eliminate phlegm, relieve coughs, and induce diuresis. 
Comments: Excellent herbal formula for the world traveler. Relieves stomach problems caused by unfamiliar foods or food poisoning. Can be used to prevent colds, particularly during the seasonal change from late summer to fall.