Zhi Gan Cao Pian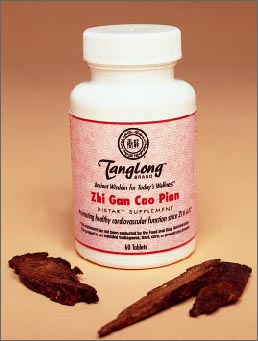 Promoting healthy cardiovascular function since 210 A. D.
TCM Therapeutic Actions:    One of the oldest formulas in the TCM apothecary, this recipe replenishes deficient Qi, enriches the blood and nourishes yin to restore a healthy pulse.
TCM Indications:  Used to strengthen both Qi and blood. It can address yin deficiency that causes irregular heart beat, palpitations, shortness of breath, pallor, insomnia, spontaneous perspiration, night sweats, dry mouth and throat.  It can also help with poor memory and improve concentration.
Modern Indications:    Ventricular premature heart beat, primary stages of arterioventricular blockage, functional arrhythmia, auricular fibrillation, cardiovascular neurosis, hyperthyroidism, rheumatic heart disease.